FAQ
What is The Happiness Project?
In 2009, Gretchen Rubin's breakout book, The Happiness Project, became a New York Times #1 bestseller and revolutionized the way people approach personal development. Over the last decade, she has taken her approach to creating a happier, healthier, more productive, and more creative life off those pages and into the daily lives of her readers and listeners through her books, blog, podcast, online courses, and weekly newsletter. 
The Happiness Project is your personal happiness toolkit, where you'll find all the practical tools, resources, and insights you need to start your own Happiness Project. There's no one-size-fits-all solution—your Happiness Project is unique to you, based on your own nature, interests, values, and experiences. This collection is your personal happiness toolkit, where you can discover what tools work for you so that you can build the life you want, starting today.
As Gretchen Rubin continues to research, experiment, and share her observations and ideas about happiness and good habits, The Happiness Project will continue to grow.
How long will it take to receive my order?
In stock items are fulfilled within 5 business days. However, due to the increased order volume heading into the holiday season and global shipping and freight delays, shipping is delayed across all carriers.
Expect longer shipping times and surcharges may apply.
Do you ship internationally?
We offer shipping to most countries. Please note that all international orders are subject to customs and duty fees upon receipt, and that all international customers are responsible for the fees that are incurred during transit.
If you do not see your country available for shipping, email support@the-happiness-project.com to request your country be added to the list.
Where can I add a discount code?
You can add a discount code on the right-hand side of the checkout page, above your order's total (see red box on the image below). Do not add your discount code in the notes section of your cart, it will not be applied.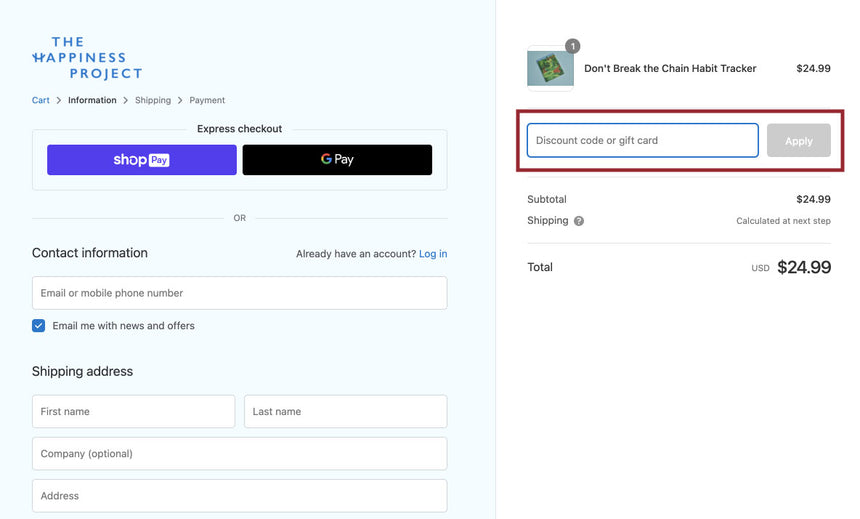 Can I cancel or change my order?
Currently, we are unable to cancel or adjust an order once it has been placed.
What is your return policy?
We accept returns within 30 days of receipt given the order is unused, undamaged, and in its original packaging. Please email support@the-happiness-project.com to start the return process. 
Once we receive the return, we will notify you via email and issue a refund on your card. Shipping costs are non-refundable if you request a refund, but we will issue you a credit for shipping costs if you request store credit.
Can I make an exchange?
Unfortunately, we do not accept exchanges. You should ask for a return and then place a new order.
Can I add a gift note or gift wrapping to my order?
Unfortunately, we currently can't accommodate requests to add a gift note or gift wrapping to orders
Other questions?
Email questions or comments to support@the-happiness-project.com, or get in touch using our contact form.
Monday to Friday, 9 a.m. to 5 p.m. PT.