FAQ
What is The Happiness Project?
In 2009, Gretchen Rubin's breakout book, The Happiness Project, became a New York Times #1 bestseller and revolutionized the way people approach personal development. Over the last decade, she has taken her approach to creating a happier, healthier, more productive, and more creative life off those pages and into the daily lives of her readers and listeners through her books, blog, podcast, online courses, and weekly newsletter. 
The Happiness Project is your personal happiness toolkit, where you'll find all the practical tools, resources, and insights you need to start your own Happiness Project. There's no one-size-fits-all solution—your Happiness Project is unique to you, based on your own nature, interests, values, and experiences. This collection is your personal happiness toolkit, where you can discover what tools work for you so that you can build the life you want, starting today.
As Gretchen Rubin continues to research, experiment, and share her observations and ideas about happiness and good habits, The Happiness Project will continue to grow.
How long will it take to receive my order?
In-stock items are fulfilled within 5 business days. However, due to the increased order volume heading into the holiday season and global shipping and freight delays, shipping is delayed across all carriers.
Expect longer shipping times and surcharges may apply.  You will receive a tracking number for your order which can help you estimate its arrival time.
I got a notice saying my package has been delivered, but I don't see it. What should I do?
Sometimes, Shopify's notification system will alert people that packages are out for delivery or delivered before they are actually delivered. Please check the tracking number you receive to see if there is a photo associated with the delivery and make sure the package wasn't delivered to a neighboring address. If there is no confirmation or photo associated with your tracking number, please wait 24 hours to see if it arrives. If the package does not appear 48 hours after you've received a delivery notification, please reach out to support@the-happiness-project.com with your order number and the tracking number.
What is the last day I can place an order to receive it by December 25th?
Wednesday, December 6: Last recommended day to ship

USPS and Economy

services (Priority, Ground Advantage, UPS SurePost, FedEx Economy Ground).
Friday, December 8: Last recommended day to ship

FedEx and UPS Ground

services (FedEx and UPS Ground, FedEx Home Delivery, UPS Ground Residential).
Wednesday, December 13: Last recommended day to ship

FedEx and UPS Expedited

services (FedEx and UPS 2 Day, Overnight). Why so early? Expedited guarantees from both FedEx and UPS are suspended, meaning they are effectively just slightly faster Ground services.
How are your shipping rates calculated?
Our shipping rates reflect the true shipping cost for each postal carrier, calculated through our discounted account with our warehouse. We want to keep our products as affordable as possible and we do not inflate our prices to cover shipping costs.
Do you ship internationally?
We offer shipping to most countries. Please note that all international orders are subject to customs and duty fees upon receipt and that all international customers are responsible for the fees that are incurred during transit.
If you do not see your country available for shipping, email support@the-happiness-project.com to request your country be added to the list.
I have a question about The Happiness Project: Revisited course. How do I get in touch?
Email questions or comments to support@the-happiness-project.com, or get in touch using our contact form and we can help. If your question is about previous Gretchen Rubin Courses (The 30-day SMS challenges or The Happiness Project Experience) you can email courses@ gretchenrubin.com.
Can I cancel or change my order?
Currently, we are unable to cancel or adjust an order once it has been placed.
What is your return policy?
We accept returns within 30 days of receipt given the order is unused, undamaged, and in its original packaging. Please email support@the-happiness-project.com to start the return process. 
Final Sale Items: Print-on-demand items being fulfilled by Printful, marked as final sale, are non-returnable and non-refundable.
Because we know holiday shopping starts early, we are extending our returns window to January 31st, 2024 for items purchased between November 1st through November 30th.
Once we receive the return, we will notify you via email and issue a refund on your card. Shipping costs are non-refundable. This includes the flat-rate shipping label we issue for the return if you request a refund. We will issue you a credit for shipping costs if you request store credit.
Can I make an exchange?
Unfortunately, we do not accept exchanges. You should ask for a return and then place a new order.
Can I add a gift note or gift wrapping to my order?
You can add a gift note to be included with your order during the checkout process.  Your note will be printed on the packing slip. We cannot currently gift wrap any orders.
I pre-ordered an item. When should I expect to receive it?
We occasionally offer items for pre-sale as we are waiting for inventory to be restocked or before receiving it. When you pre-order, your credit or debit card is not charged until we have the item in the warehouse to fulfill. Once your card is charged, we will ship items following our standard protocol of 5 business days. Expected delivery times will always be added to our product description to let you know our expected timing.
How long does it take to hear back from customer service?
We are happy to assist you with your questions. We answer emails Monday to Friday, 9 a.m. to 5 p.m. PT and you can expect a response within 2-4 business days on average. During the holiday season, response time may be increased. We are committed to answering each inquiry so we appreciate your patience. Please always include your order number in correspondence when reaching out.
Where can I add a discount code?
You can add a discount code on the right-hand side of the checkout page, above your order's total (see red box on the image below). Do not add your discount code in the notes section of your cart, it will not be applied.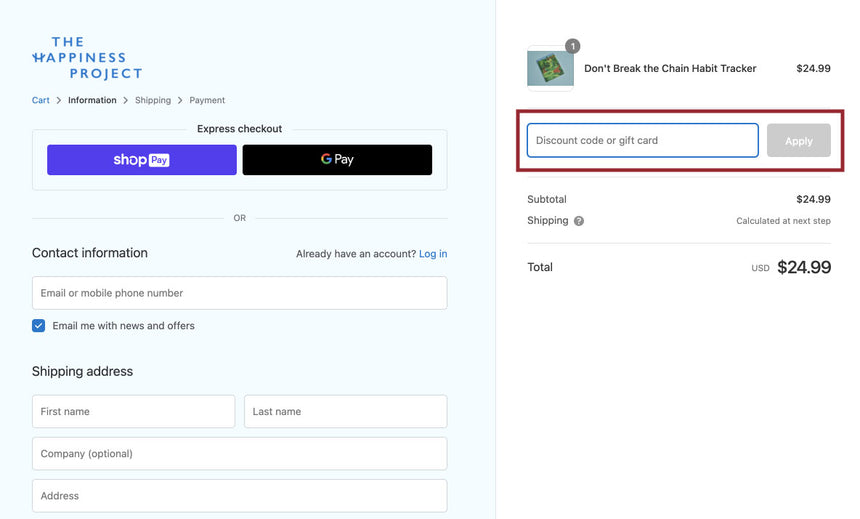 Other questions?
Email questions or comments to support@the-happiness-project.com, or get in touch using our contact form.